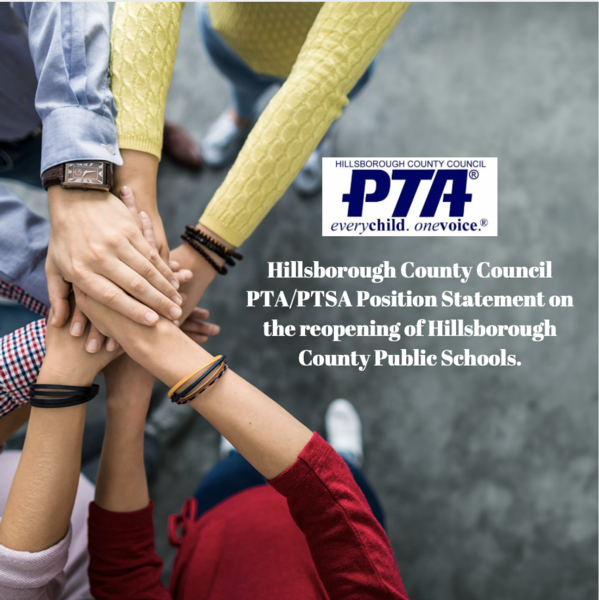 Hillsborough County Council PTA/PTSA Position Statement on the reopening of Hillsborough County Public Schools.
Hillsborough County Council PTA/PTSA (HCC PTA/PTSA) calls for the safest environment for our children to return to school. We are encouraged by Hillsborough County Public Schools plan to reopen schools ensuring the continuity of education. However, it should not outweigh the concerns for health and safety of our children, educators, school staff, families, and community. We understand and appreciate that planning needs to be fluid and we are grateful that HCPS provides choices, which empowers our families to make the decision that best suits them. Outlined below are our positions on several topics as they relate to the reopening of Hillsborough County Public Schools.
PUBLIC FORUMS

Hillsborough County Council PTA/PTSA urges Superintendent Davis and the Hillsborough County School Board to host public forums for feedback and questions about Hillsborough County Public Schools plans for reopening. Engagement from parents, families, students, educators, school employees, public health experts and community members is essential for effective decision-making and implementation. We recommend that HCPS make materials available in multiple languages and offer translators available for forums when possible.

SCHOOL READINESS

Noting rising numbers of COVID-19 cases and the work to that needs to be done for our students to return, HCCPTA/PTSA recognizes the need for HCPS to work closely with Florida Department of Education and Governor when determining start date.

STANDARDIZED TESTING

We recommend the need for HCPS and stakeholders to work closely with Department of Education to suspend the Florida Standards Assessments for the 2020-2021 school year, so that there can be a recovery of instructional time otherwise devoted to FSA testing.

ATTENDANCE REQUIRMENTS

We ask that HCPS consider amending attendance requirements and recognition awards. This will serve the community health when pressure to attend school while sick is removed.

MASKS

HCCPTA/PTSA strongly recommends masks in accordance with the CDC guidelines. We recommend masks be made available by HCPS for all students, teachers, and staff and worn while socially distancing. We understand that HCPS may need to make exceptions based on the individual student and/or faculty needs.

SOCIAL DISTANCING

Hillsborough County Council PTA/PTSA recognizes that a comprehensive plan for social distancing guidelines for schools is required prior to the reopening of brick and mortar. We ask that HCPS publishes the plan with time for input from the stakeholders.

SANTIZATION AND CLEANING PRACTICES

Hillsborough County PTA/PTSA recommends sanitization dispensers in all classrooms and passing areas. Highly used areas need to be cleaned frequently. Adequate custodial staffing should be available at all schools to ensure daily cleaning. We believe a best practices guide should be followed district wide with frequent internal inspections.
CONFIRMED COVID-19 CASES

HCPS should provide and publish a specific step-by-step plan for when a case of COVID-19 is confirmed in a school, with contact tracing included. We expect HCPS to be transparent and proactively communicative about the number of cases in each school, allowing families to implement measures to slow the spread of the virus.

TRANSPORTATION

HCCPTA/PTSA appreciates the transportation plan set by HCPS. Including hand sanitization stations for students on and off the bus, the providing of masks and encouragement to wear, social distancing when possible, and cleaning protocols that exceeds the CDC guidelines.

TECHNOLOGY

We encourage Hillsborough County Public Schools to continue to bridge the technology gap with the eLearning platform and Hillsborough Virtual K-12. This should include training for families and students, providing devices to complete the work, and hotspots for those in need.

MENTAL HEALTH

Hillsborough County Council PTA/PTSA also recognizes that the mental health of our children and families is vital to the success of learning. We ask HCPS to promote an equitable plan to help in this transition.

FUNDING

Hillsborough County Council PTA/PTSA recommends that resources to our economically challenged schools and communities is at the forefront of Hillsborough County Public School's plan. Funding is necessary to ensure that when our schools reopen, they have the resources needed to do so as safely and successfully as possible. Public funding must be the primary resource without reliance on PTAs and academic foundations.
To our families, when making the educational choice for your child, we encourage to consider what is in your best interest. Take time to research and learn about all the options.
To our local units, please encourage your membership to advocate their concerns, questions, and feedback to their Hillsborough County School Board Members.
Hillsborough County Council PTA/PTSA welcomes transparency, communication, and to be part of the solution.
____________________________________________________
Frank Reyes, President Hillsborough County Council PTA/PTSA